WASHINGTON (CNN) -- Veteran Pennsylvania Sen. Arlen Specter switched from the Republican to the Democratic Party on Tuesday, saying he has found himself increasingly "at odds with the Republican philosophy."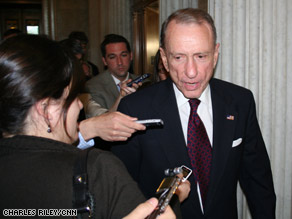 Sen. Arlen Specter was expected to face a tough re-election battle in 2010.
"This is a painful decision. I know I'm disappointing many of my colleagues," he said at a news conference announcing the move. "The disappointment runs in both directions.
"I'm putting principle at the top of the list," he added.
---------------------------------------------
Or re-election.  Specter might have faced a popular  right-wing Republican in a primary for the 2010 election, but now he will not be forced to do that.

As usual, he took heat from the dopey GOP: Republican National Committee Chairman Michael Steele ripped Specter, calling him a Republican in name only who was out of step with the rest of the party because of his "left-wing voting record."
One wonders why Maine's two GOP senators, Collins and Snowe don't jump the sinking GOP ship as well.  They have similar voting records as Specter and, as such, would be 'Republican in name only'  just like Specter.  Were that to happen, the GOP could kiss good bye any bills or obstructionist-ideas it had for this Congress.
One might ask:  Where is Ohio's Voinovich in all of this?  He must be feeling very lonely these days sitting in the swamp with his GOP buddies.