PARIS, France (CNN) -- Hundreds of French workers, angry about proposed layoffs at a Caterpillar factory, were holding executives of the company hostage Tuesday, a spokesman for the workers said.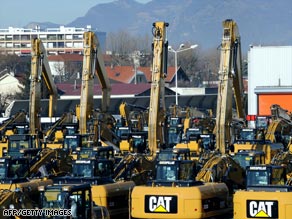 Caterpillar's French staff say they are angry about a lack of negotiations over layoffs.
It is at least the third time this month that French workers threatened with cutbacks have blockaded managers in their offices to demand negotiations. Executives were released unharmed in both previous situations.
WASHINGTON DC.  The U.S. Government continues to give billions of dollars to idiotic companies and their bungling bosses....  


Great comparison, eh?  Why the hell can't we be more like the French?  How about kidnapping  the 'dirty dozen' who Mike Taibbi fingers in his latest piece in RollingStone?
ALAN GREENSPAN, SANDY WEILL, PHIL GRAMM*, JOE CASSANO, ROBERT RUBIN, JIMMY CAYNE, CHRISTOPHER COX, ANGELO MOZILO, JOHN THAIN, HENRY PAULSON, DICK FULD, KEN LEWIS.
*my personal hanging favorite